This article is relevant for Business Central OnPrem customers only

Before reading this article, please make sure you have familiarized yourself with the ForNAV Direct Print overview: https://www.fornav.com/direct-print/.

With ForNAV 6.2, you can now print ForNAV, RDLC and Word reports directly to a printer OnPrem, without having to print to a PDF first and then send it to a printer. This also enables printing in the background without UI for server printers.
For this to work, you need to install ForNAV 6.2 or later version (www.fornav.com/download), and you need to install the ForNAV Report Pack from the Gallery. This also goes if you want to run RDLC and Word reports. You don't need to run any ForNAV reports.
You select the printer in the Printer selections page.

This page refers to the Printer Management page: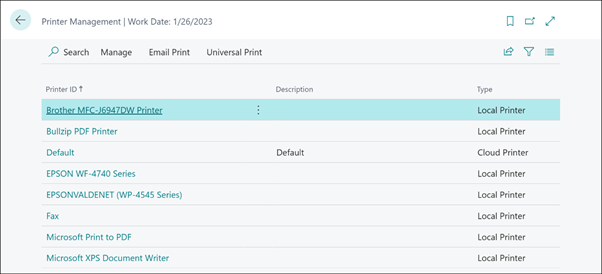 In the Printer Management page, in the Type column, Local Printer means a physical printer visible to the Business Central service tier and Cloud Printer means a virtual printer printing elsewhere. The server printers listed can be both a printer connected directly to the Service Tier machine or a network printer.
As a result, in the request page for the RDLC Chart of Account reports, the default printer is the one selected in the Printer Selections page – but you can also select other printers.

It is also possible to print from AL using the local printer name, for example:
Report.Print(Report::"Chart of Accounts",'EPSON WF-4740 Series');
For an overview of ForNAV Direct Print, please see: https://www.fornav.com/direct-print/