Updating ForNAV in cloud situations is a four-step process:
Download the latest version of ForNAV from https://www.fornav.com/download/
Install ForNAV on the Designer computers.
Upgrade the ForNAV Customizable Report Pack extension (optional).
If necessary, upgrade the Custom Layouts and Custom reports.
1. Download

You can download the latest version of ForNAV from https://www.fornav.com/download/. This download contains all the installation options for Designer and server computers.
2. Install ForNAV on Designer computers

When you install a new version of ForNAV, you must never uninstall any previous versions because you might need the old version dll later.
In the Setup wizard, select the Development installation option: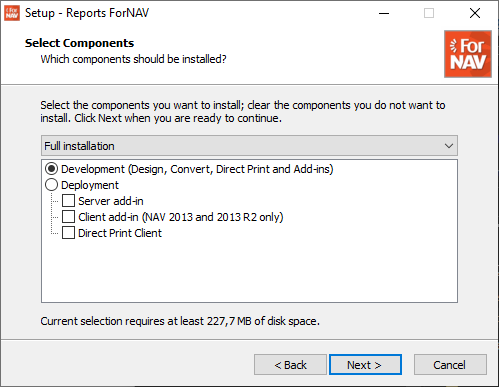 After you have installed the ForNAV Designer, you must connect it to Business Central and test the connection.
3. Upgrade the report pack extension

This step is optional; the report pack is upgraded automatically during your scheduled Business Central upgrades. However, in some cases, it might be necessary to upgrade the Report Pack manually.
To upgrade the report pack, you must uninstall the current version of the ForNAV Core extension. This automatically uninstalls any extension that is dependent on the ForNAV Core, including the Customizable Report Pack.
To uninstall the ForNAV Core extension, you open the Extension Management page, find the ForNAV Core extension, and select Uninstall.
Note: Do not select Delete Extension Data.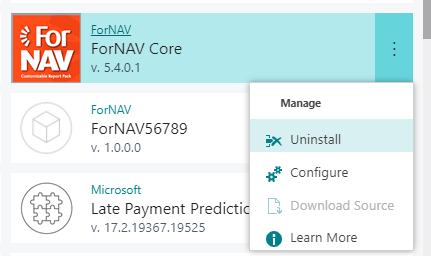 After you select Uninstall, Business Central warns you that several other extensions will also be unpublished, most notably the ForNAV Customizable Report Pack. You must make a list of these extensions. If they are per tenant extensions, you need their installation files to reinstall them later.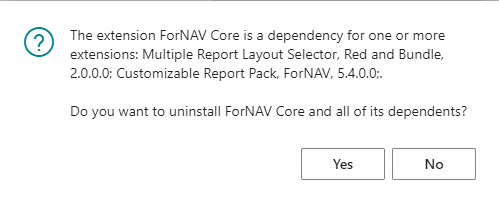 Next, you can install the new version from Microsoft AppSource. After installing the ForNAV Customizable Report Pack from AppSource, you can install all the dependant extensions.
4. Upgrade the custom ForNAV reports

After ForNAV has been fully upgraded, you can upgrade your custom ForNAV reports, for example if you want to take advantage of new features in our report pack. You can do this by simply opening the reports or layouts in the new version of the ForNAV Designer and saving them again.