This article describes what to do if you experience problems with specific fonts on your system. We have seen a couple of issues where a font was expected to show in a report but for some reason it displayed garbage or random characters, or nothing at all.
Here are a couple of solutions to common problems that we have seen:
Permissions
You must make sure that the file permissions on the font files are correct. Users of the fonts must be able to read the font files. When printing from the service tier directly to a printer or when creating a PDF document, it is the service tier that needs the correct permissions. If you print to a client printer or when printing or saving to PDF from the preview dialog, print jobs are rendered on the client. In these situations, you must ensure that there are read permissions on the client side and that the fonts are installed on the client as well.
Language Settings
Windows has a feature that filters out specific fonts based on language settings. This is known to create problems so that you see garbage characters instead of your beloved barcode font. Sometimes, you will see that print jobs rendered on the client to the preview dialog or a client side printer work well, whereas PDF documents created on the server do not. In this case, you must clear the "Hide fonts based on language settings" check box in your font settings and restart Windows.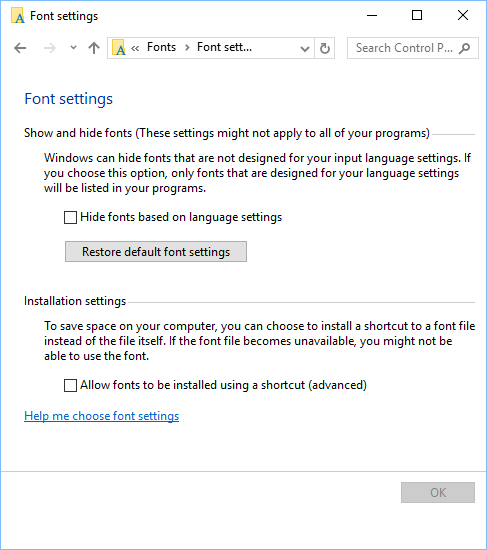 Please note that changing this setting requires a restart of Windows. It is not enough to restart the service tier.
Unblock The File
When you get files from the Internet or a network location it may be blocked for security reasons. Therefore, you must unblock it from the file properties.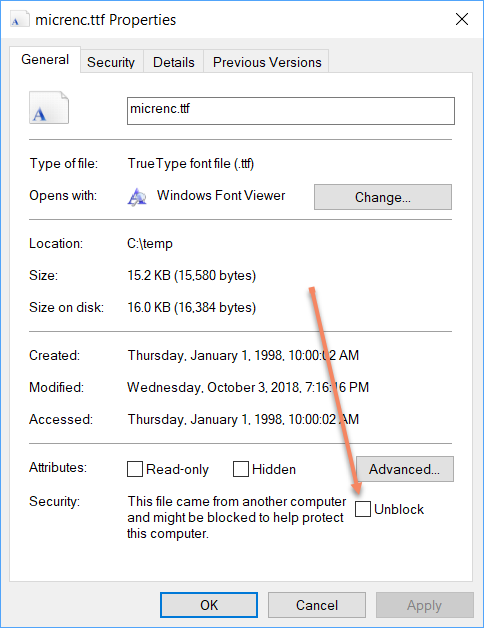 Reboot
After changing the font settings it is a good idea to reboot your machine. We have seen multiple times that fonts are not rendered correctly until the system is rebooted.