The Reports ForNAV product consists of four components.

Report designer.
Report converter.
Server add-in.
Client add-in.
When you run the installer, you can choose which components you wish to install.
Developers typically install all components on their system. Most developers have a local service tier running on a test database.
If you are deploying the solution to normal users, you simply need the server runtime add-in. NAV 2015 and later supports automatic deployment of add-ins from the server to the client. This means that you do not have to install anything on the client if your users only want to run the reports. You only need to install something on the client if you want to design the reports.
In case you have NAV 2013, you need to install the client add-in on the client machines. This is because the add-ins are not sent to the client automatically as in NAV 2015 and later. To install the client add-in, you simply run the setup program and select the client add-in.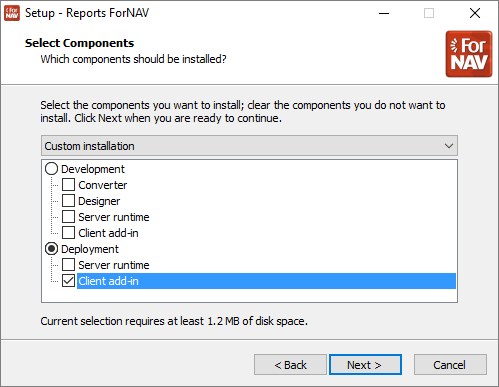 The installer lists some of the components under both development and deployment. In this case it does not matter which one you choose.