UPDATED October 16, 2021 – 00:10 CET

This article is relevant for OnPrem and Private Cloud customers only

Please read this entire article before making a decision about which approach to follow.
Currently, we have no indication as to when and how Microsoft will fix this issue.
If you have any questions, please direct them to support@fornav.com
—oOo—
After a Microsoft Windows Cumulative Update (CU) was rolled out on October 12, 2021, some ForNAV reports render big black boxes on the output instead of borders or lines.
The problem is in Windows, where lines or borders with default width (the value is shown as 1 and non-bold in the property window), or with the width set to zero, are shown as black boxes instead of thin lines.
Microsoft will most likely roll out a new update that fixes this problem, because the previous behavior has worked in Windows programs for almost thirty years. We are in dialogue with the Microsoft Update team, but we do not know the timeframe for a possible fix. If you go to the Windows Feedback Hub (search for example "gdiplus"), you will see several posts on this topic.
We will keep you updated here when we have any news.

In the meantime, there are a couple of ways to get around this problem:
The short-term fix for this is to roll back the Windows CU:

To identify the latest Windows CU, go to Windows Update, Update History

and look for a

recent update called 2021-10 Cumulative Update for Windows.


(Unfortunately, we cannot give you an exact KB number, as this varies depending on which version of Windows you are running.)



To uninstall it, click Uninstall an Update.
Another workaround is to change the border width on the affected borders or lines to, for example, 0.1.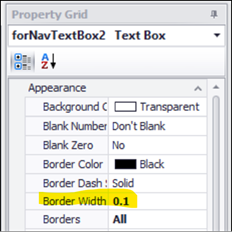 Upgrade to the latest ForNAV version

We currently DO NOT recommend this approach until we have fully identified the problem and released a new version of ForNAV.