This article describes how to create a new email body layout for a custom report. This is only relevant in an On-Premise installation with the DLL version of ForNAV. For any Universal Code installation (cloud or On Premise), this article is not relevant because in a Universal Code installation you can use any Custom Report Layout for an email body.
The ForNAV DLL must be version 6.3 or later.
You can use a ForNAV Custom Report Layout to create an email body layout for your reports. This Custom Report Layout must be of the type Word. By default, a Custom Report Layout for a ForNAV DLL report is of the type RDLC.
To create a new Word Custom Report Layout, you must first save your report as a docx file. You can do this by opening the report in the ForNAV Designer, click Save As, and then specify .docx in the Save as type field.

After you have saved the report, you must open the Custom Report Layouts page, click New, specify your report number, and select Insert Word Layout. This creates the relevant record in the Custom Report Layouts table. You can change the description to something relevant.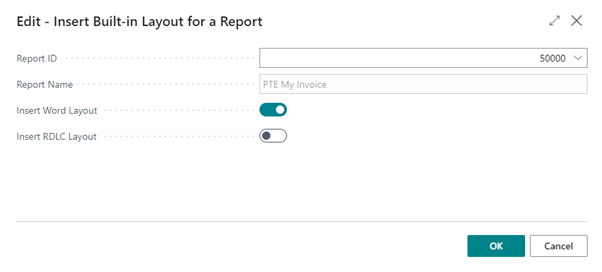 Finally, you can import the docx file you created in the first step. Select the new layout and click Layout, and then click Import Layout.