This Knowledge Base article is relevant for ForNAV Report Pack 5.4 and higher.
In the ForNAV Report Pack 5.4 for Microsoft Dynamics 365 Business Central Cloud and Business Central OnPrem version 16 (and higher), ForNAV now supports archiving when a report is previewed, downloaded in Word/HTML/PDF, or printed.
To use this feature, you must be logged in as a super user – other users do not have access to archive pages. Super users can view the archive information and perform some actions on it – but they cannot delete or modify the history.
To get started, in the ForNAV Archive Setup page, enter the reports that you want to archive. (A zero in the Id field means that all ForNAV reports are archived.)

When a report has been run, the output is displayed on the ForNAV Document Archive page.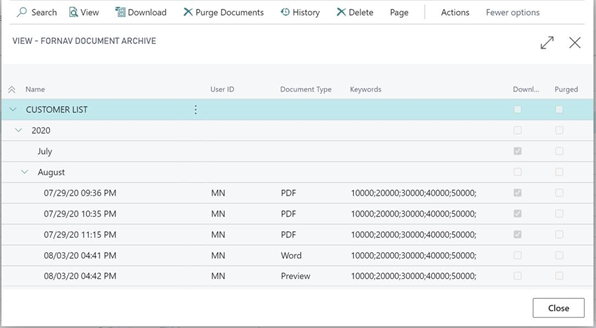 For each document, primary keys are listed, separated by semi-colon. These primary keys are searchable, to make it easy to locate a single document.
On this page, you can also:
View the document by downloading it and opening it in the relevant program (Word, Excel, and so on).
Download one or more documents to a zip-file for backup. (You can select a year or a month by selecting the year and/or month rows on the page).
Purge the contents of one or more documents so it will not take up space. (A warning appears if there is no backup of the document.)

Show the history of the actions that have been done on the document:
On the ForNAV Reports page, you can find a shortcut to the information, where you can click the number in the Archived column to see the history of the report. (If you click a – for a report that does not have archiving enabled, you are asked if you want to enable archiving).